Misantronics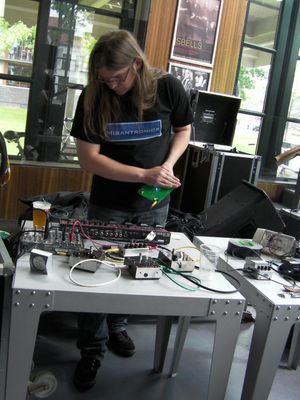 Although 2009 counts as the official beginning of Misantronics, Serge has been creating music since the late eighties. He started out in several rock bands which never gained a lot of attention but were great fun to do anyway.  Later, when software and technology made solo creations possible, Serge began producing electronic dance music under several different names.  From then on, the focus was completely on working alone.  Some of the tracks filled dance floors at a number of 'gothic' parties.  By that time, he had been a rock and metal DJ for quite some time.

Cooperations were rare back then, until Lijn 12 was born.  Lijn 12 turned the typical EDM into experiments with noise, beats and more noise.  The music became darker, and once again some Lijn 12 tracks turned out to be dance floor hits.  Later, after turbulent personal times, another cooperation suddenly turned up.  Im:Prod was born, distinctly moving away from electronic music and into the realm of drones and harsh guitar noise. Serge started drumming in Im:Prod and found the way to stages again.

One night, after an Im:Prod recording session at Serge's place, he continued to record live improvisations (only because he wasn't tired yet).  At that moment, somewhere in 2009, Misantronics was finally born.  Under this name, Serge started experimenting with harsh noise, resulting in some uneasy-listening releases.  However, as you can usually expect with Serge, it didn't take long before the music started evolving again.

Misantronics also found the stage but somewhere along the line, Serge decided to leave the live performances to other people, at least the solo ones.  Crawling back into his solitary studio Misantronics gradually evolved from harsh noise into dark ambient, only to cross the borders of that genre on a regular basis.  Still influenced by EDM, a side project was born, named Mint Narcosis, where beats and synths might fill dancefloors again.  

Today, Misantronics is a solid underground project with a pretty impressive amount of albums, e.p.'s, splits and tracks for compilations.  He strongly holds on to the term 'Experimentality' where anything is allowed, as long as it sounds good enough. There's no way of telling what Serge will come up with in the future.  But for now, the album 'Eristic Dialectics' is his latest piece of work, a pretty dark one.